Thailand's Temple Rubbings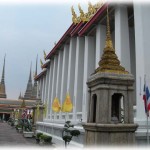 A Little History on Thailand's Temple Rubbings
In this article we take a brief look at some of the history behind Thai Temple Rubbings.  What inspired most of the rubbings and some of the story that the rubbings help to tell.
Please, have a look at the article, and as always don't hesitate to give us some of your input.  You can always contact us or leave a comment on the article.
To read this article, click Thailand's Temple Rubbings.